Department Chair
Prof. Vesselin Metodiev. Ph.D.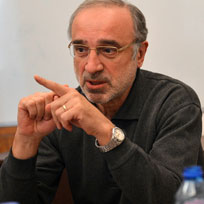 Assoc. Prof. Veselin Metodiev PhD is a member of the Board of Trustees of NBU from 26.05.2000.
Member of Parliament in the 40th National Assembly, where he is Deputy Chairman of the parliamentary group of "Democrats for Strong Bulgaria". In 1997-1999 he was Deputy Prime Minister and Minister of Education and Science.
His professional career passed through the New Bulgarian University,Chief Department of Archives at the Council of Ministers, 37th and the 38th National Assembly.
His main research interests are in the history of the state institutions in Bulgaria. Teaches philosophy of history; sources for Bulgarian history; history of thr state institutions in Bulgaria; the history of the modern Bulgarian state; European history
Among his most important publications are:Monographs:
The Council of Ministers in Bulgaria. Beginning 1879-1886, S., 1999.
120 years Council of Ministers in Bulgaria, co-author and compiler, S. 1999.
The Constitutional Debate in the Bulgarian Parliament in the 19th Century, Sofia, 2016, 150 p.
Documentary Guides:
The Bulgarian State Institutions 1879-1986, co-author and compiler, S., 1987.
Bulgarian Constitutions and Constitutional Projects, co-author and compiler, S. 1990.
Constituent Assembly, sources and comments, author and compiler, S., 2004.
Studies and articles in scientific publications:
The Constituent Assembly, the Turnovo Constitution and the Council of Ministers, Statements of State Archives, vol. 58, C., 1989 36 pp.
The Documentary Legacy of prominent Bulgarian statesmen for the period 1879-1944 on the pages of the "State Archives Notifications", issue 50, 1985.
The sources for the history of state institutions, Reports, C., 1984.
Rules of Procedure of the Council of Ministers of 1881, Statements of State Archives, v. 47, 1984.
Establishment and start of the Ministry of Foreign Affairs, Archival Review, 1980.
The Beginning History of the Executive in Bulgaria, S., S. 1999.
The Historical Time of Velcho T. Velchev, in Velcho T. Velchev, The Stormy Times of Our New History, Memoirs and Memoirs, Ed. Window, S., 2014.
The Parliamentary Debate in the First Ordinary National Assembly - Autumn of 1879, Yearbook of the History Department, T.5-6, Ed. NBU, S., 2014.
History and Structure of the Ministry of Interior, Risk Monitor, 2015, no. 36.
Votes of Trust and Votes of Mistrust to Bulgarian Governments (1990-2014), in 25 years of changes. Limits and Transition Periodization, Institutions and Quality and Democracy in Bulgaria, Sofia, 2015.
Does Bulgaria have a national cause today? co-author in: Conservative Quarterly S., 2015 Year 1, vol. 2. The Political Challenges to the History of Middle School Education at the End of the 20th and the Beginning of the 21st Century, pp. 164-173 in: Collection of Scientific Conference "Education in Socialist Bulgaria - Between Tradition and Communist Ideology", 11.10.2013, VTU (under the Project "Experienced Past"), T.1, Ed. Faber V.Tarnovo, 2015.
Contact information:
Building 2, Room 206
tel.: 02/8110 276, / 2206
e-mail:
vmetodiev@nbu.bg